Share feedback
Thanks for sharing your feedback!
Improved navigation and search functionality
We made small interface improvements around the service, to align important functionality to make it easier to find. We now focused strategy execution functionality to only one place in the application.
Simplified home page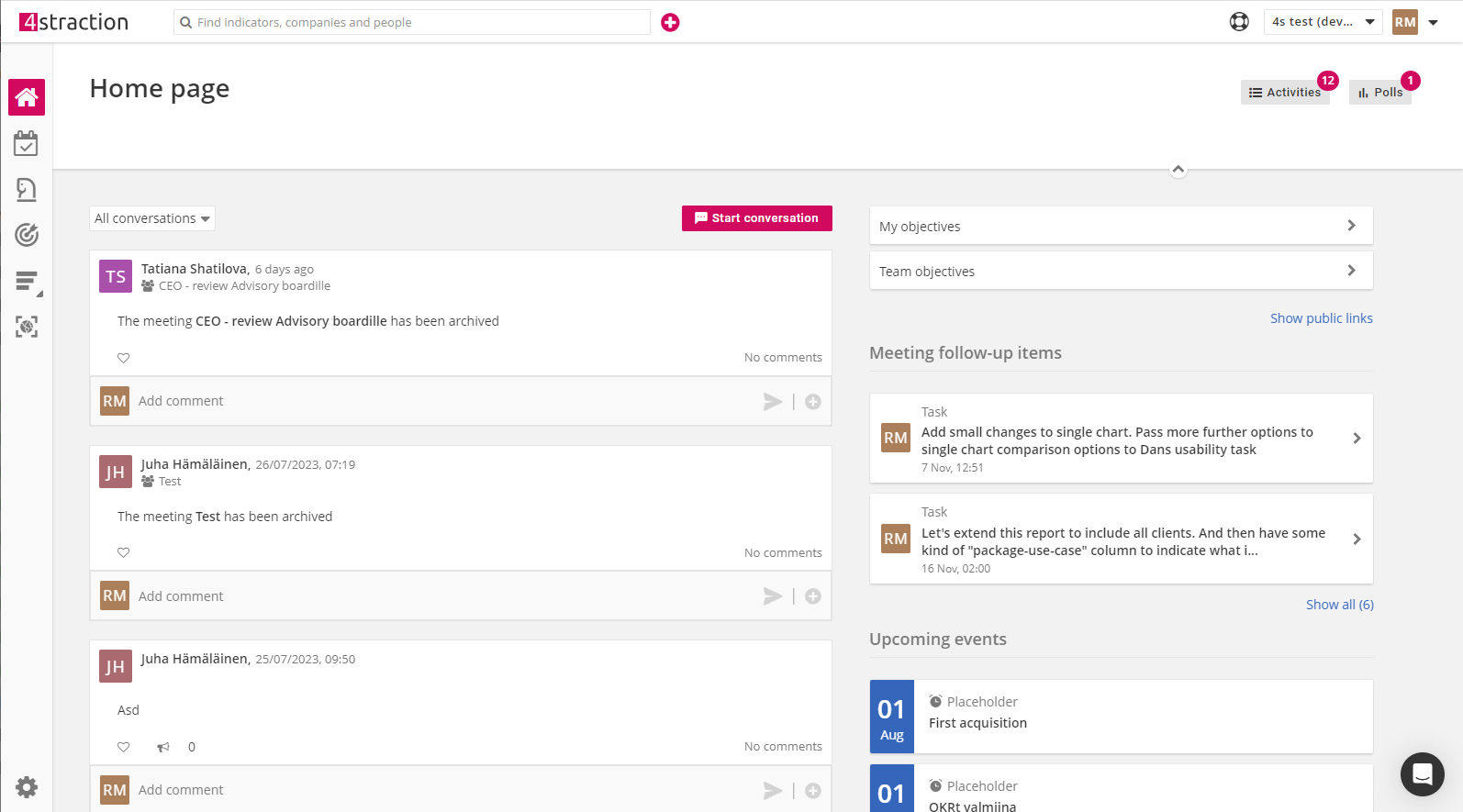 Home page is now simplified, and contains important links to elsewhere in the system. Persona or team objectives are listed here and forwards user to strategy execution with relevant filters.
Previous check-in functionality has also been located inside strategy execution functionality, so there is only one place to use them. This way, user can use common filters to only limit check-in to appropriate content, if they wish.
Streamlined apps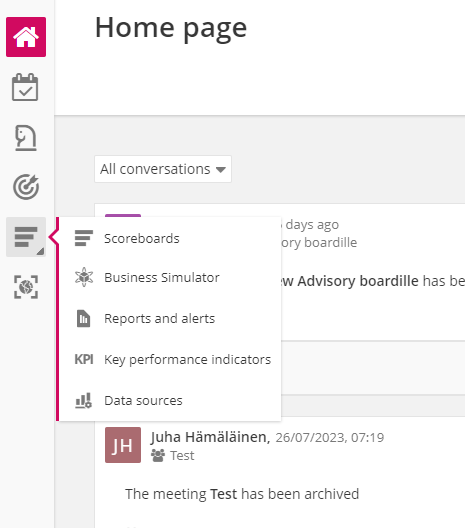 asd
New search functionality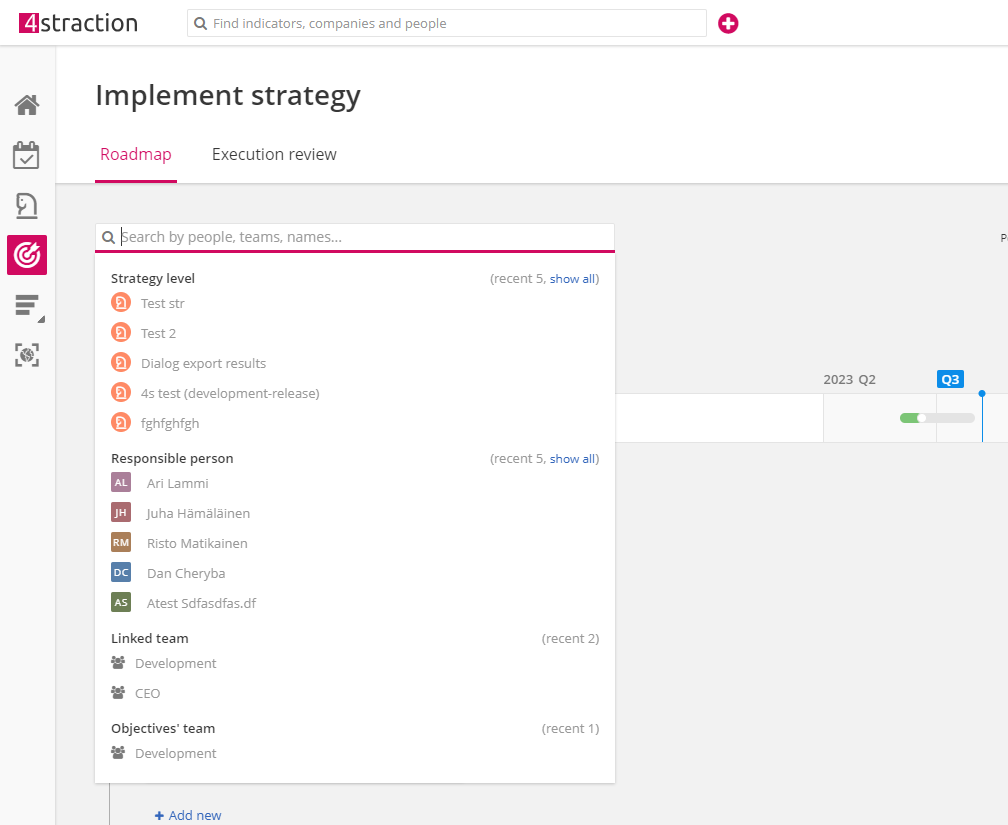 System search is now included in one expandable panel which supports text typing. By activating search component, you can find common filter attributes. You can also use person or team names to find individual components.
Strategy work calendar
Coordinate all strategy work from single screen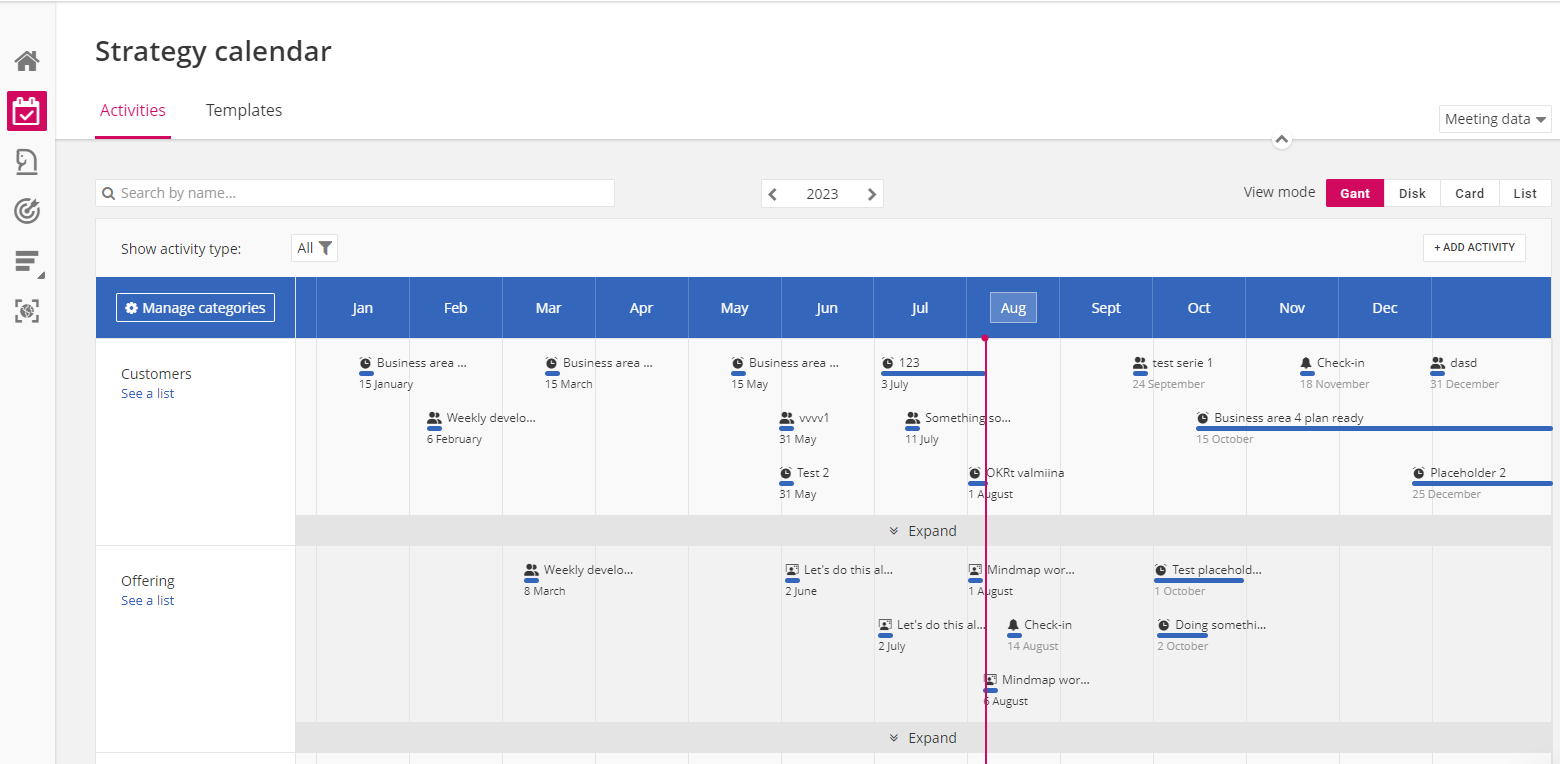 We brought totally new holistic view to coordinate all strategy work from one place. Here you see familiar meetings, workshops in one place. From here, facilitators can view all what is happening in the company and also observe current status for workshops.
We also added placeholder entries which help you to plan upcoming events that yet do not have detailed information how they work
Status updates
Facilitators can now schedule status updates to happen in certain times. Previously system had monthy day when reminders where sent, but now this work can be customized to company spesific timely events. Facilitators can also customize each message that is sent to appropriate shedule of events
New categories for work
We also introduced categories to organize strategy work, that helps to group workshops, placeholders and other items to relevant categories. For OKR work, you might have company wide objective planning, team OKR planning and retrospectives in their respective categories to help view the whole.
You can now also use teams or virtual teams to categorize events.
Workshop functionality improvements
Cntinious workshop mode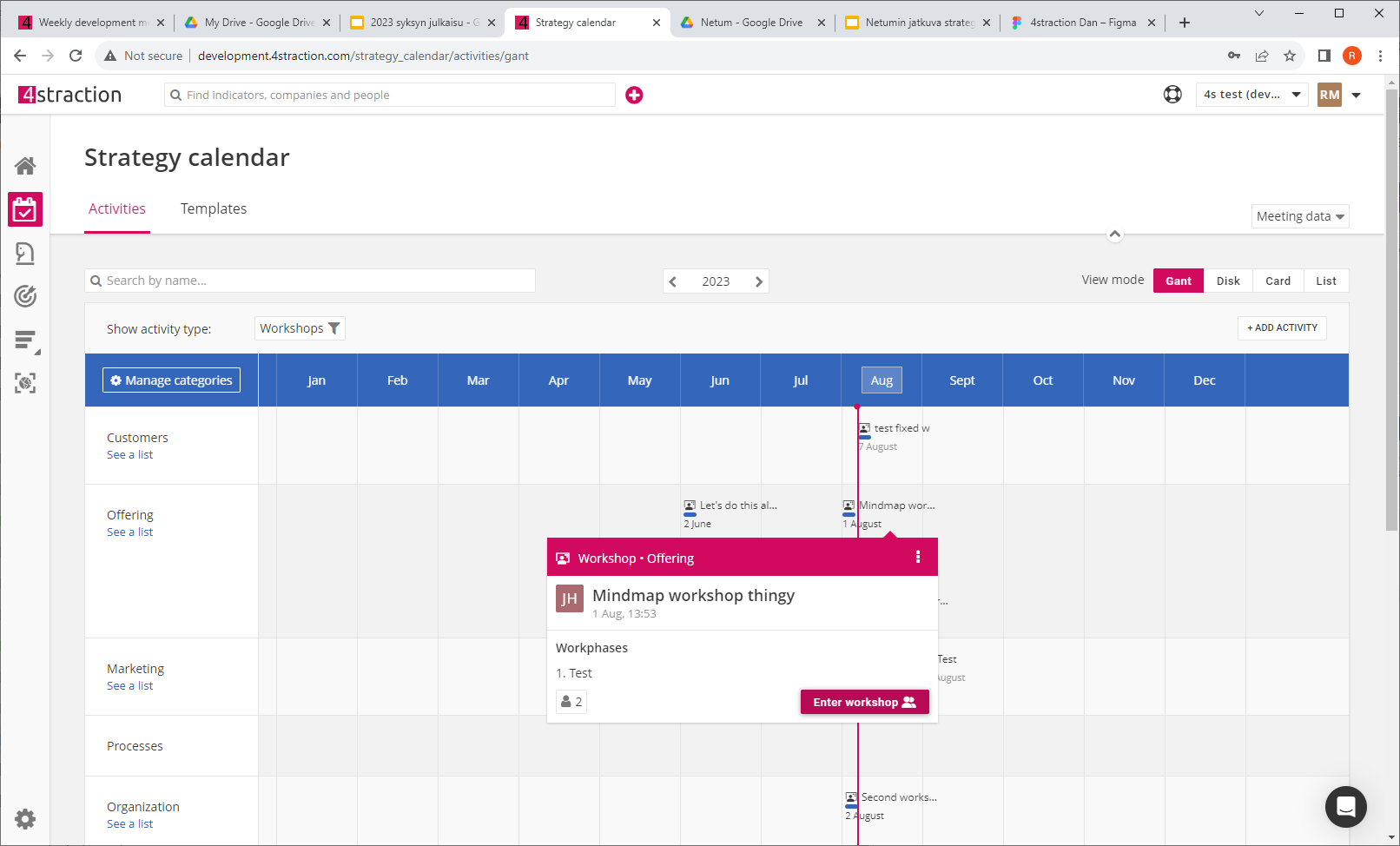 Previously all workshops were planned to be time-boxed. Now we brought continious mode that helps facilitators to create swot sessions that are updated in each round. Continious mode also includes history, that makes it possible to view workshops in history and track changes.
New mindmap workshop phase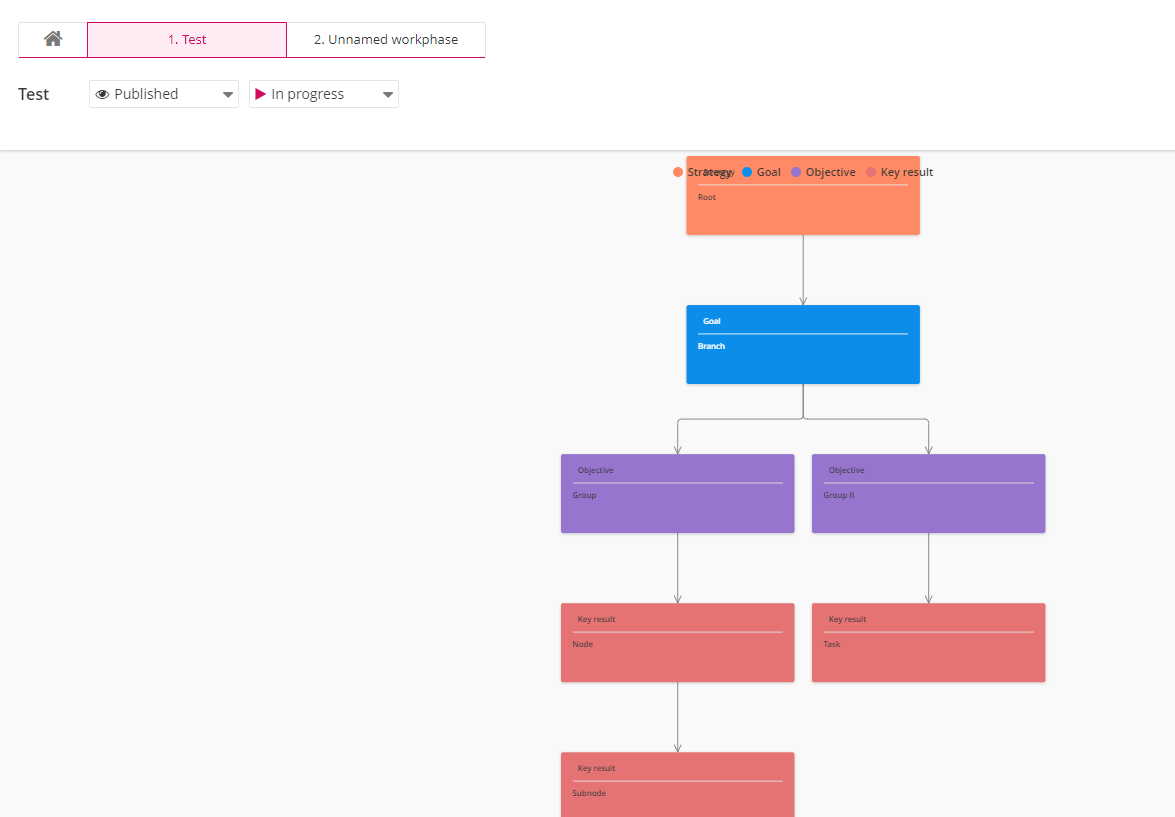 Mindmap mode is now included as a workshop phase type.
Strategy progress calculation improvements
Ability to cross-check calculations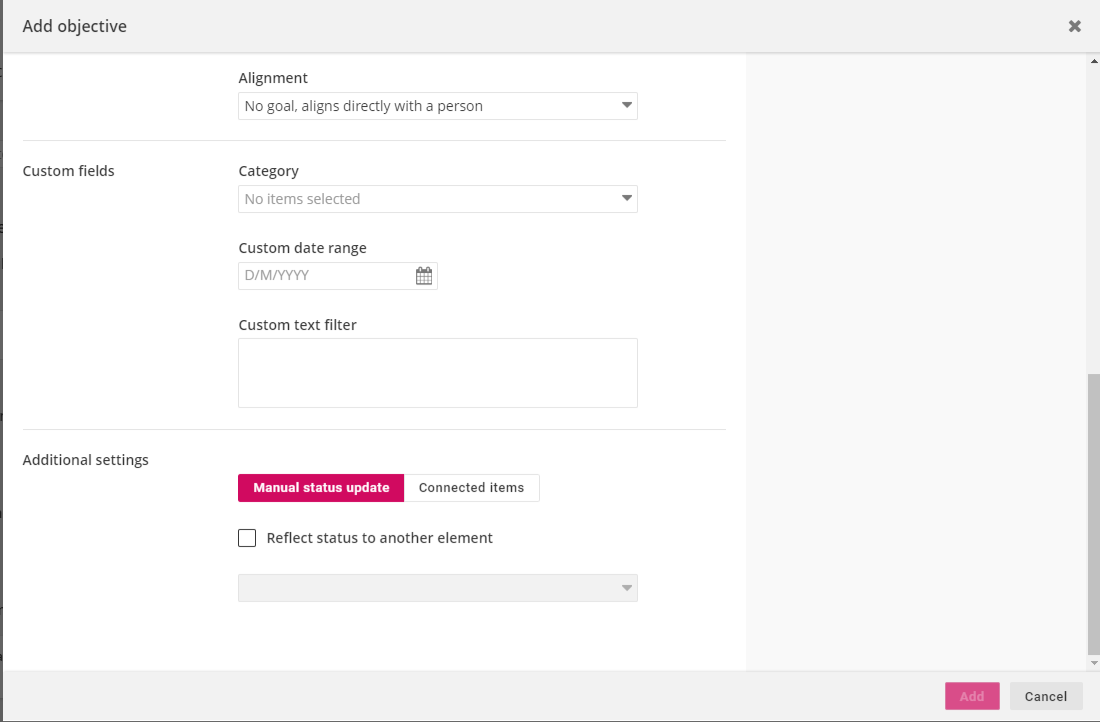 Objective level calculation now supports also point-to-point relection of progress. This allows users to relect status to "another" branch of strategy work. This might help companies that have different strategy branches for company-wide work and business areas/divisions
Other changes
Intercom gdpr
Intercom is one sub-processor in our GDPR third party subprocessor list. We now have seperate possibility to pseudo-anonymize information passed to Intercom, which makes Intercom not GPDR applicable. If this would help your work, you can opt out to make Intercon not GDPR applicable. Contact support for this request.
---
Was this article helpful?
---
What's Next