Closing workshop and sharing the results
---
Once participants have completed all intended work phases and you have some preliminary results, it's time to analyze the results and close the workshop. After closing the workshop, you receive a result page that is stored in the service and which you can also easily share forward.
1. Analyzing the results in summary notes
After closing each work phase, the facilitator can add summary notes in which they can analyze the results, provide context, draft next actions etc. These notes are visible in the workshop and its result page. While it's not mandatory, we suggest that the facilitator adds some kind of summary to the work phases because they can help the reader to correctly interpret the final results.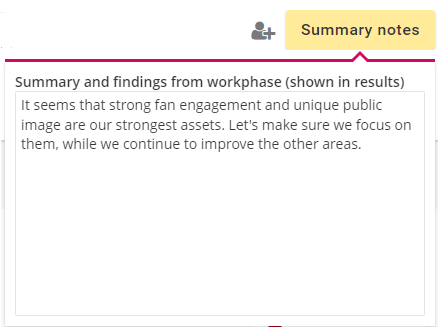 2. Closing the workshop
After all work phases are completed and the facilitator has added summary notes to them, they can proceed to close the whole workshop.
You can close the workshop from two places:
1. The "Close workshop and publish results from here"-button that appears next to the last work phase*:

*Note: this button appears only if all work phases are marked as completed by the facilitator
2. The "Close workshop and publish results"-button that can always be found from the Actions-menu in top right corner: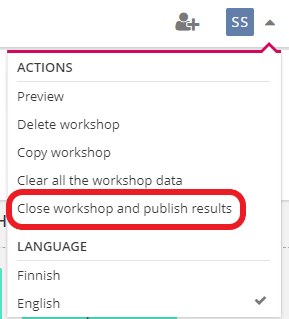 Clicking either one of these opens a window, where you can do the last adjustments before generating the results:
The first toggle-setting dictates who can access the result page in the service. If this toggle is active, every user in that environment can open the results page. If it's inactive, only facilitators and workshop participants can open the workshop.
The second toggle-setting dictates if a list of participants and their journey in the workshop is shown at the top of the result page.
The third toggle-setting dictates if a public link is generated automatically to the results page*.
The fourth toggle-setting dictates if the participants will receive a separate notification

to their email

about the workshop closing.
The "result summary and comments" allows you to add comments about the full workshop.
*Note: public links need to be active in organization's general settings for this toggle to appear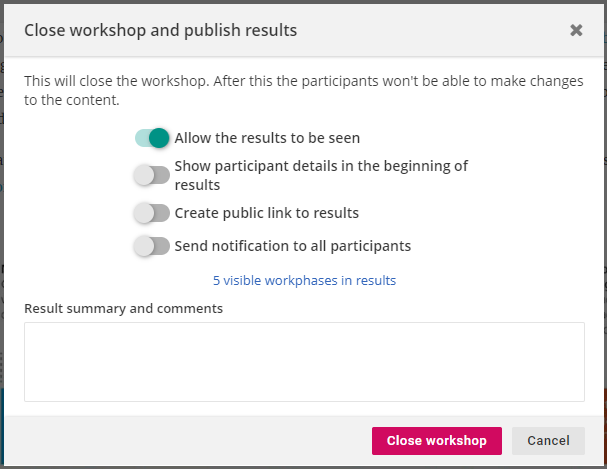 The hyperlink beneath the toggles allows you to select which work phases are visible in the result. You can also add or modify the summary notes in this window: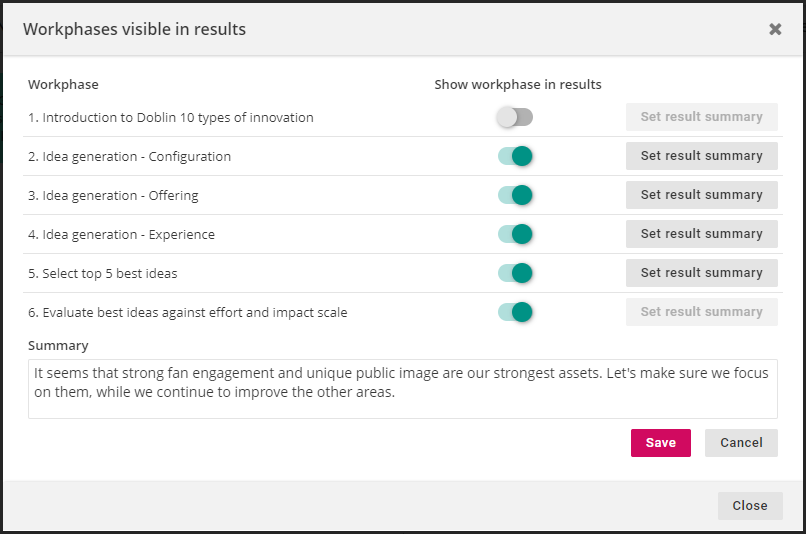 Once you have selected preferred settings and set visible work phases, click on "Close workshop" to generate the results page.
3. The results page
Once the workshops is fully closed, the results page becomes active. The results page contains results from all selected work phases and their summary notes. Users can use the different available interactive qualities if they want to look at the results from different perspectives or drill down to detail level. Facilitators can generate and manage the public links from the Sharing-menu in top right corner: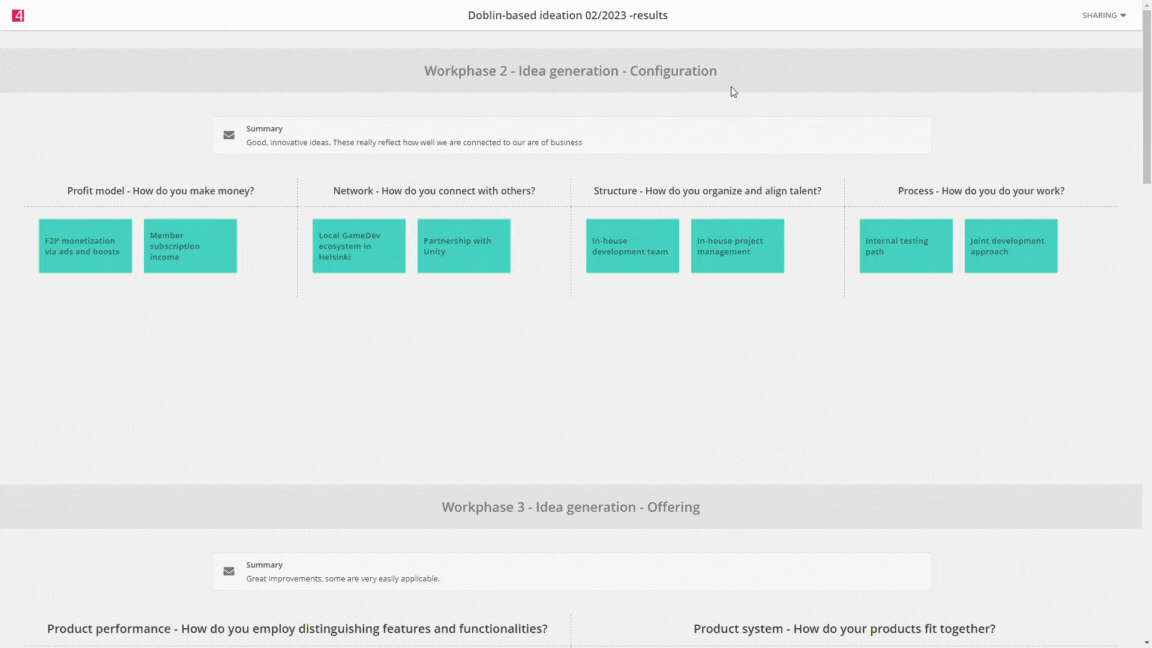 ---
Was this article helpful?
---
What's Next