Living strategy concept
28 Aug 2019

2 Minutes to read

Contributors
Living strategy concept
Updated on 28 Aug 2019

2 Minutes to read

Contributors
---
Share feedback
Thanks for sharing your feedback!
The Living Strategy Concept
Living Strategy is a dynamic part of an employee's daily work. To be 'alive', it must also be agile and adjustable when needed. The entire structure and processes of the Management system need to be aligned, but the most important element is people. Their knowledge, capabilities and desire to communicate are the crucial building blocks of a Living Strategy. It offers real-time, continuous learning and builds the ultimate competitive advantage by:
understanding (business environment and own organization)
a mutual thirst for knowledge
engaged people
decision making
changing plans (if any)
willingness to change
managing actions and resources
And it does it faster, more easily and better than your competitors. The Living Strategy Concept is a solution which will channel the most important information to help your company reach its full potential, i.e. achieving its strategic objectives.
Strategic Management problems – need to find better solutions
Global and business environments have become more unpredictable. It is very difficult to predict the future and count on it. Long-term plans are no longer an option. Annual strategy projects can still be useful, but they are not adequate in a turbulent world where there is continuous and rapid change. Continuous assessment of future developments is still relevant, but companies need to be aware and prepared all the times to make quick decisions and change their behaviors proactively and reactively. We have suffered for far too long because of poorly implemented, detached strategy projects with few participants under various theories. An unclear market view has distorted effective strategic decisions. It is critical to invite new voices into the strategy work and to encourage new perspectives and conversations. As a corporate leader, you need to create a dialogue that spans organizational boundaries and use optimum potential to create the results. Common challenges to strategic management are shown in Table 1.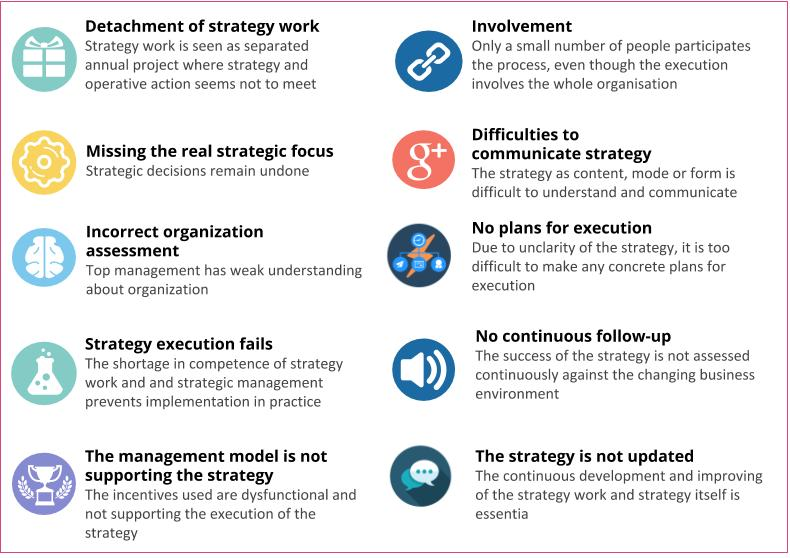 Outcome – user benefits
Organizations have a certain purpose with a mission, vision and objectives. The most important element is a company's philosophy. Company management is responsible for creating and implementing strategies. This is their most important task. Strategy defines a company's vision and how it will be achieved, whilst maintaining competitive advantage. The company's strategy determines the direction of all work and employees throughout an entire organization. Although strategy is an important factor, the real source of value creation is Human Capital. The Living Strategy Concept maximizes the Human Capital Value by boosting information, communication, learning and action for the benefit of users (Table 2.) Companies with the strategic ability to leverage Human Capital throughout an organization will gain benefits in actions and results. Even a small improvement in the efficiency of the management system will bring about a multiplicative effect and generate a great increase in the result. This is why you should invest in such improvements!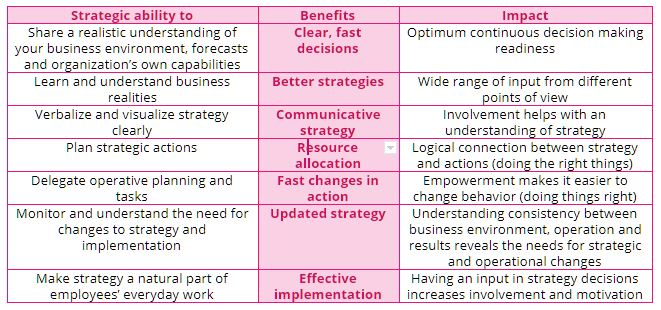 This is the value proposal for organizations in brief, this leads to improved strategies and their implementation!
---
Was this article helpful?
---
What's Next