Strategy facilitator trial period, Part 3: Sustaining Living Strategy - Status updates, dialogue and process tracking (Total: ~40 mins)
---
Share feedback
Thanks for sharing your feedback!
Now that you have learned how to manage the strategic structures and invited other users to participate in your shared strategy work, it's time to learn how you can track progress and sustain the Living Strategy process. By collecting status updates from responsible users, you can see how different strategic projects are progressing. Users can also participate in the strategic dialogue which provides another important source of information and acts as a catalyst for change. After successfully gathering input from other users, it's important to learn how you can utilize strategy views to track progress and share information forward which allow you to sustain the continuous strategy process.
3.1 Request status updates and initiate strategic dialogue (15 mins)
Status updates for breakthroughs, actions and metrics are perhaps one of the most important methods of contributing to the Living Strategy process as they share vital information across the organization. If everyone gives status updates for their areas of responsibility according to the agreed timeframes, Living Strategy can provide a real-time overview of the organization's strategy.
To aid users in giving these timely updates, the system automatically sends out status update requests to their email which can also be opened from their home page. These requests compile all the status updates that are due to one page, so that users can efficiently update all of them at once. But since status updates are requested only after the selected time period has passed, this means that the first requests might be sent too late considering your 30-day trial period. Luckily, there are two options to solve this issue: A) instruct users to give status updates individually for each strategy part or B) manually send update requests from the Strategy settings.
Option A) requires nothing but internal communication as responsibles can give status updates in any given moment. All they need to do is navigate to the strategy part's own page by clicking on them in a strategy view and select "make a status update" (for breakthroughs and actions) or "set data" (for metrics).
Strategy settings needed in option B) can be found from the Actions-menu located in the top right corner. Select "Request status updates now" from the Status updates section to open the following window, where you can send a status update request with a preferred cover message to all or just selected few responsibles.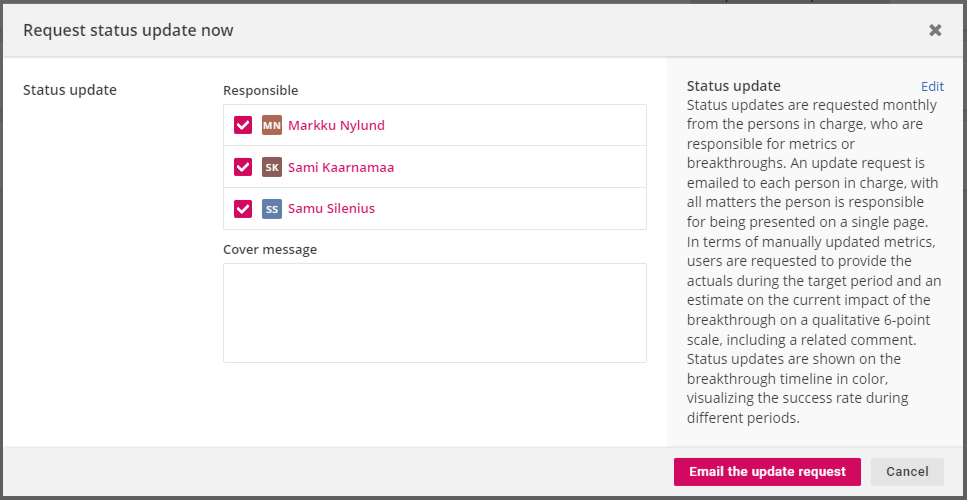 The information conveyed by the status updates can and should be complemented with strategic dialogue. In Living Strategy's core package*, the strategic dialogue consists of comments given by users to breakthroughs and actions and system-generated messages about recent changes and status updates. This dialogue flow is compiled to the user's home page, where only the most relevant entries for the user are shown, but also in breakthrough's and action's home pages, where all dialogue regarding the specific strategy part is visible. Comments can be used for several purposes, e.g. raise important questions or list areas of improvement/future changes. You, as a facilitator, can set an example for the invited users by commenting on something to help them become aware of the feature and initiate the dialogue.
*The dialogue becomes richer with the other available modules. With Markets-module purchased, the news entries hand-picked by users are added to the dialogue. With Dashboards, the comments given to charts and tables along with system-generated messages about recent changes to dashboards are added the dialogue flow.
3.2 Progress tracking - strategy views and sharing options (25 mins)
After you have successfully requested status updates from your peers and initiated some strategic dialogue, your organization should now have plenty of strategic content to examine, track and analyze. To help you manage this constant flow of strategic information, Living Strategy offers the ability to produce strategy views which are formed by combining strategy perspectives with different available filters. Besides learning how to create different views of your strategies, you should also learn how to share these views to other users and even outside the service.
The perspectives and filters are always shown on the top of the page. Following filters are available:
Strategy level (are all or some strategies shown)
Responsible person (limit the shown items based on responsible user)
Linked team (limit the shown items based on responsible or linked team)
Success (limit the shown items based on status updates)
Status (limit the shown items based on their publishing status*)
Impact range (limit the shown items based on their time period)
Additional field-based filters (if organization has some active)
The Strategy level-filter is always visible, since they are the most common reason for filtering. The rest of the filters are located in the yellow filters-menu and become visible only if they are activated.
*Read more about strategy publishing and status management from article "Strategy publishing, status updates and status management"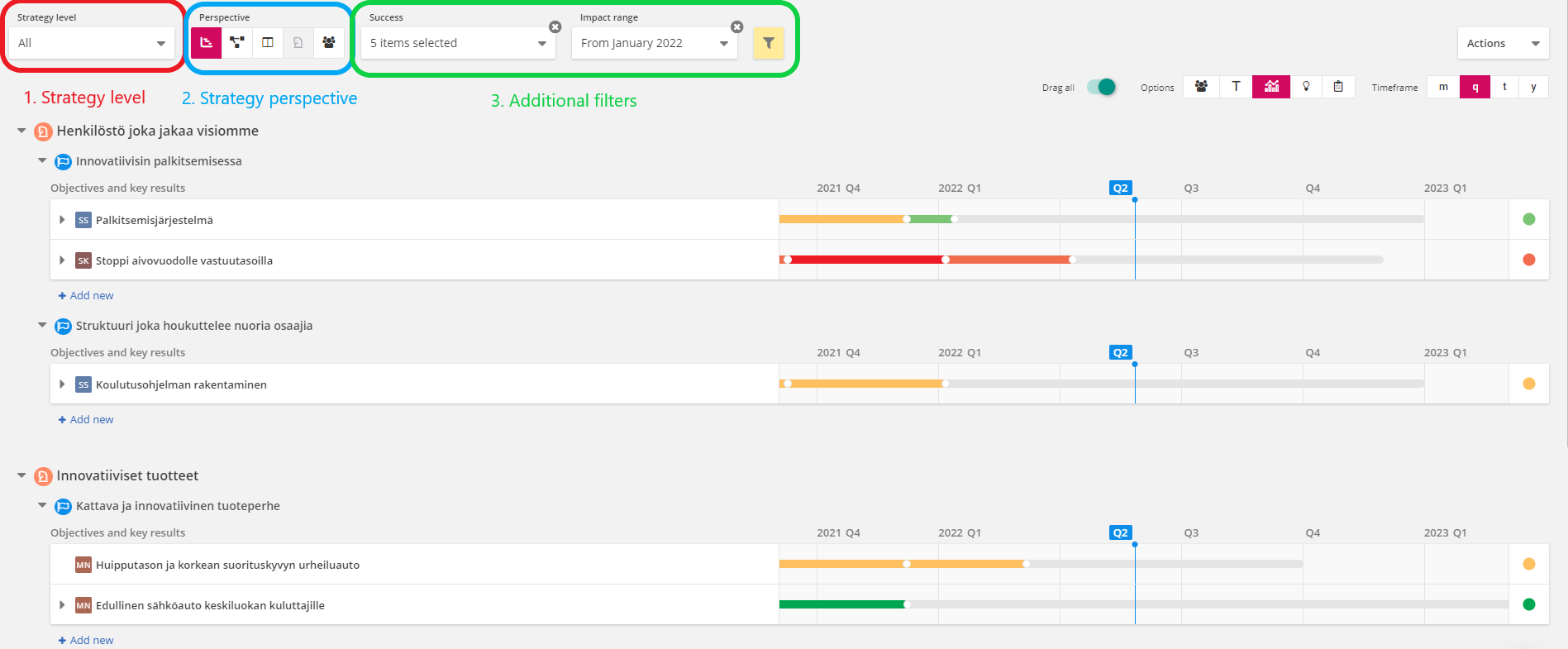 The perspectives are (from left to right):
Roadmap which visualizes the progress of breakthroughs in a joint timeline. Users can control the visible items or switch the structure to team-based from the top right corner. Actions and metrics can be opened visible from the arrow next to breakthrough's name. Clicking on the question mark on the far right side of a breakthrough/action will open a separate hierarchy view that shows how that strategy part is related to the bigger picture.
Strategy map which visualizes the strategic structures in mind map form that allows easy adding, editing and deleting. Settings that control the visible elements and visual aspects are located on both sides of the map.
Board view which visualizes each strategic goal as a separate lane and shows the breakthroughs and related metrics under them. Users can control the visible items from the top right corner and move these items to new destinations by dragging them. The far right lane contains all the unaligned items that can be conveniently allocated in this view as well.
Description which visualizes the strategy in a story format showing descriptive content together with the breakthroughs latest status. Linked metrics can be opened by clicking on the chart-icon and the linked dashboard can be found below the strategic content.
Organization structure which visualizes the strategic structures against the organization structure in a mind map form. Similar to the strategy map, you can drag items to new destinations and control the settings and visual aspects from the sides of the map.
Breakthroughs, actions and teams also have their own pages that can be accessed by clicking on their name in any of the strategy views. These pages contain valuable information that helps you control the Living Strategy process, so be sure to check them out!
If you want to learn more about the different strategy views, you should check article "Using Strategy".
Sharing your strategy views
When you have found the strategy views that suit your or your organizations needs the best, there are a few features you can use to share them forward. First of them is Saved views which allows users to save the current strategy view, so that it can be later accessed with a simple mouse click. You can save views from the strategy level-selection. Facilitators can save strategy views for the whole organization and normal users can save them only for themselves.
The second is Public links* which allows users to generate a link of the current strategy view that can be accessed by anyone with internet connection. The created view doesn't allow any changes to be made and is intended purely for sharing purposes. Public link for the currently active strategy view can be generated from the Actions-menu.
*Note: due to safety reasons, public links have to be activated first from the organization's general settings before they can be used from the Actions-menu.
The third option is to export roadmap as a dashboard block that can be inserted to any dashboard. This allows organizations to combine e.g. key financials with strategy's roadmap for reporting purposes.
---
If you haven't examined or shared strategy views before, you could try following things:
Look at the same strategy/strategies from different perspectives to see how they function
Try out how filters affect visible content
Try adding, deleting or editing strategy parts from each view
Visit breakthrough's, action's or team's own page
Try creating a saved view and a public link
---
Was this article helpful?
---
---
What's Next